The Eye of Minds

by James Dashner
Published by Random House Books for Young Readers Also in this series: The Rule of Thoughts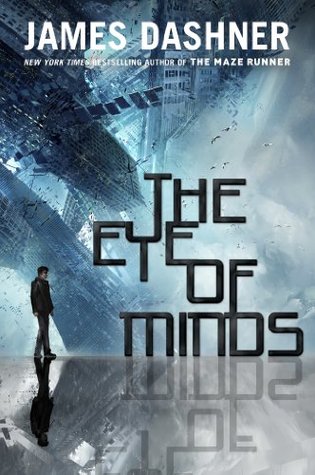 Publish Date: Published October 8th 2013 by Delacorte Books for Young Readers
Synopsis:
An all-new, edge-of-your seat adventure from James Dashner, the author of the New York Times bestselling Maze Runner series, The Eye of Minds is the first book in The Mortality Doctrine, a series set in a world of hyperadvanced technology, cyberterrorists, and gaming beyond your wildest dreams . . . and your worst nightmares.

Michael is a gamer. And like most gamers, he almost spends more time on the VirtNet than in the actual world. The VirtNet offers total mind and body immersion, and it's addictive. Thanks to technology, anyone with enough money can experience fantasy worlds, risk their life without the chance of death, or just hang around with Virt-friends. And the more hacking skills you have, the more fun. Why bother following the rules when most of them are dumb, anyway?

But some rules were made for a reason. Some technology is too dangerous to fool with. And recent reports claim that one gamer is going beyond what any gamer has done before: he's holding players hostage inside the VirtNet. The effects are horrific—the hostages have all been declared brain-dead. Yet the gamer's motives are a mystery.

The government knows that to catch a hacker, you need a hacker.
And they've been watching Michael. They want him on their team.
But the risk is enormous. If he accepts their challenge, Michael will need to go off the VirtNet grid. There are back alleys and corners in the system human eyes have never seen and predators he can't even fathom—and there's the possibility that the line between game and reality will be blurred forever.
I first just want to say that I am a huge Dashner fan!
Michael is a hacker. Spending most of his time in the VirtNet with his friends Sara and Bryson, they have experiences no one could imagine because in the VirtNet, you can do almost anything.  Having full sensory, you feel and experience everything as if it's real, without actually getting hurt.
However, a Gamer named Kaine is causing some problems.  There are still rules inside the VirtNet, and the VNS is responsible to keep those rules intact.  That's when the VNS contacts Michael.  They have been watching him for a while, and know about his mad hacking skills.  The VNS needs someone on the inside with that experience to get into the mind of the gamer Kaine.  Of Course, Sara and Bryson are more than willing to help Michael with this adventure.  However, they will come against obstacles they never dreamed about.
Imagination at its best, James Dashner amazes with his creativity in the worlds that he created. Not only with the Wake, but the VirtNet too.  This first book in the series moves at an incredible pace, full of action and sensory overload. With vivid writing skills that only Dashner can create, you will be pulled into this story and experience the highs and lows right along with Michael and his friends.  With shocking twists and turns, and at times a complete adrenaline rush, this is one sci-fi story you don't want to miss.
And be sure to read the second book in the series, The Thought of Minds.
Subscribe to Blog via Email